Animal agriculture and our treatment of animals is ripe with injustice. Our treatment of animals pollutes our land, destroys our ecosystems, abuses workers, and exploits communities — and none more than communities of color. The survival of our planet is reliant on finding greater respect for all living beings.
If we wish to improve our health, heal our planet, and practice kindness; adopting a thoughtful, plant-based diet is a delicious way to accomplish these goals.
DUCKS: BENNETT, CLARENCE, AND HEZEL
Just Ducky Brothers!
Always together, this trio moves as one. At first glance, they may all appear to look quite similar, but spend a few moments with them, and their individuality comes shining through.  Hezel is short, squat, sweet, and has a middle child personality. Physically, Bennett and Clarence look very similar in all regards, except for slight eye placement. Clarence's eyes are higher on the head. Bennett takes charge; he's the leader of the group and very outgoing. Clarence is curious and sweet. It takes a while to gain his trust, but once he's comfortable, he is quite friendly. We imagine their conversations go something like this: Clarence is like "Hey! What's going on over here?" and Bennett is like "I'M what's going on over here!"
CHICKENS: WENDY, JANE & ANNIE
They're as sweet as they are tiny
Annie is our curious adventurer. Jane's more laid back. Both girls are in love with Wendy and seem to think of her as their "protector". You'll find this trio always together picking through the plant life or relaxing in the tall grasses or their outdoor hutch. They LOVE treats (they all come running) especially watermelon!!!!!!
Edgar is definitely a character! A very content boy and fierce protector, Edgar calls out warning honks when new people or animals are around. He enjoys surveying the land and keeping an eye on his neighbors Wendy, Annie, and Jane. On nice warm days, you'll find him napping in the tall grasses or inspecting the bug life around him. He is truly magical and adored by all who set eyes on him!
You may find Alondra sound asleep in her hay tub looking so angelic and peaceful, but she plays as hard as she sleeps! She's a master runningback with fancy and fast footwork – bopping around the jungle gym hoping to entice Avery or Romy to play with her. She is a lover of all and loved by all!
Avery is very fittingly a Capricorn. Born January 7th, he is soft-hearted and determined. He's the little brother that torments you because he loves your attention, and if we're being honest, we linger a little longer hoping he'll drive us crazy.
GROVER
Special Boy with a Big Heart!
Grover is a dreamy boy. He'll fall asleep in Tracey's lap, and she loves this probably even more than he does. Grover loves to play and gets the zoomies – leaping in the air, running into his stall and jumping atop his bales of hay. He loves meeting new friends and has never met a soul he didn't like. He is adored!
The boy has soul. Levi will make you weak in the knees as he stares into your eyes. He's a sweet and loving guy. Levi loves when humans say hello. With his roommates he is a boss; well-respected but not feared. His best friends are his caregiver Kat and his goat-friend Avery.
Anita is an angel that walks the earth. We love to give her kisses on her sweet little nose and get tickled by her soft whiskers. Having only one eye doesn't keep Anita from watching everything that goes on at Hey Friend Foundation.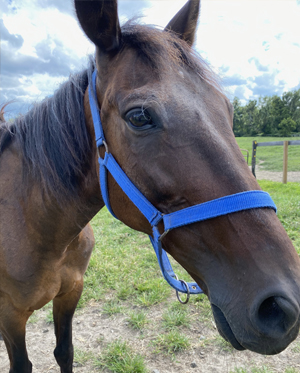 BIRDIE
Queen of the Zoomies
Birdie is good-natured, stoic mare who likes to, every now and then, remind us she used to be a racehorse. Watch out when she gets the zoomies! We adopted her as senior in need and we love taking care of this old gal. One look into her soulful eyes and she's got you by the heart!
Nugget is a super sweet boy – often mistaken for a plush toy. He's that cute. He's a friend to all, but his best bud is Sneakers, and his girlfriend is most certainly Panda. This little Romeo will call out to his Juliet and she will happily run to him.
You'd never know by meeting young-spirited Sneakers that he's 32 years old (that's 99+ years for us humans!). He's a very sweet old man often caught making the silliest of faces. Stubborn at times, it's in the most wonderful way. Lady horses love him!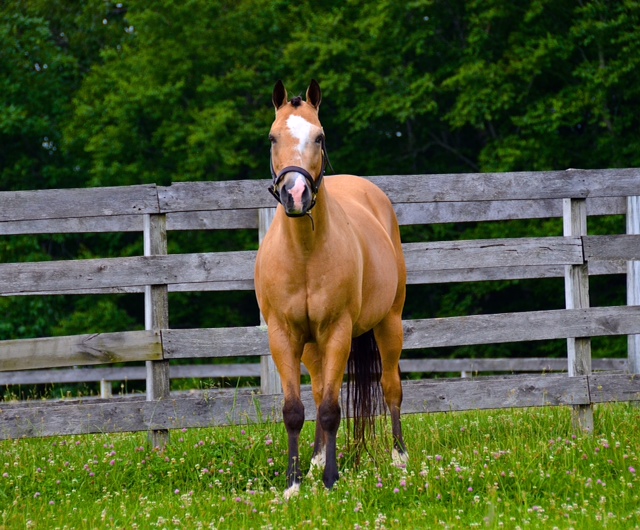 STEADY
Dependable Gentleman
You can count on Steady, as his name implies, to be well…steady. A lover of the outdoors, this sweet young senior enjoys long walks in the woods soaking up the many good sniffs and sights. Steady is the ultimate good boy; friendly, easy-going and just a pleasure to be around. It is impossible not to fall in love with him.
ARTHUR
Artisan Nest Builder
Arthur is a perfectionist in his craft. He will pick up the tiniest strand of straw and add it to his bed. "Arthur you're so right, it did need that one more piece." Once in his nest, he does not appreciate being disturbed. He's made his bed and now he wants to lie in it!
Veronique's mid-day nap is your best chance to cuddle with her. When she's not snoozing, she's exploring. Always on the go, she'd prefer to be out rooting in the pasture. While she appreciates a good belly rub, she won't commit too long as she may be missing out on something else!
WILBUR
Master of the Snooze
Not a morning guy, Wilbur is more the type to keep hitting the snooze button. While slow to start to his day, once up, he's up with a vengeance. Arthur & Wilbur share a pasture but explore different areas during the day. Come bedtime, they report back to each other and snuggle in their nest.
Tracey calls Barry her boy. The two spent a lot time napping together when Barry was convalescing, but Barry's soulmate is Eliza. He loves her! Barry is incredibly sweet, tolerant and trusting. Whenever we're crouched in the barn working, we'll feel gentle pressure on our shoulder that is Barry's head.
Eliza loves love. She won't seek out attention but if you look her in the eye and stroke her cheek, her tail will wag fast and she's all yours. She's described as "a lot of sheeple's best friend." She's incredibly maternal, but in a "cool aunt" kinda way. She demands respect, and we have loads for her!
Young Frankie is always ready to play. ALWAYS! She can get quite rambunctious. That's when we tap out and let the goats tap in. By walking away we teach her that that's not how we wish to play. While headbutting isn't for all of us, she certainly has her goat and sheep friends that are more than happy to oblige.
No matter how old Lucas is, he'll always be our baby boy. He's super-duper sweet and cuuuuuute! He looks like an angel and his looks don't deceive. He is a good, good boy! He's so gentle and never even went through his head-butting phase.
Romy is pure innocence, a deep soul, an angel and a people-person. Romy's gaze will melt your heart. He's so responsive to his name and human affection that he will come running (actually, pronking!) from any distance if you utter his name.
FERAL FELINE FAMILY
Fur-eal Friends
Luckily for us all when Hockhockson Farm was purchased, it came with more than was paid for. Their names are Dr. White Pants, Greg, Tetley, Ernie, Smith, Fleetwood Mac, Kaleidoscope, Malcolm, Helen, and Oates.